Agra Shopping - Things To Buy in Agra
Yes, it is there.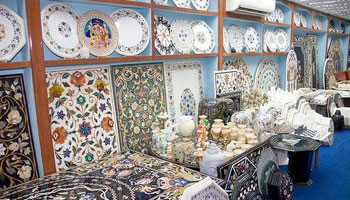 Agra is also known for its handicrafts and fine arts traditions - Your Taj Mahal tour is incomplete if you return without taking a replica of the Taj Mahal. It is a mini Taj Mahal that you can take back home. These mini Taj Mahals are made by local artisans and is must included in every visitors Agra shopping list.



You can take it as gift for someone you love - Some of the fine work for which Agra is famous includes marblework, such as inlaywork of the kind seen within the Taj Mahal. Leather goods are the other major Agra shopping products. All leather items like bags, shoes, belts, leather jackets etc are availablein various designs. Agra Rugs and Carpets are also very popular.

There are many leather industries in Agra so leather goods are available in large variety. A good range of decorative articles made up of metals like brass, silver, copper are also available.Sadar Bazaar, Munro Road and south of Taj Ganj are popular shopping areas in Agra. Shilpagram, a craft village on the eastern side of Taj Mahal in Agra, is a popular open-air emporium that is frequented by many tourists on their shopping in Agra.

While shopping in Agra be careful about the quality of the stone of marble products. Genuine marble is opaque and does not allow light to pass through. Do as much bargaining as u can during Agra shopping.

Check if Taj Mahal replica you are buying is Genuine marble or not (i.e. Alabester)

Do not go for shopping with guides or drivers, they have heavy commissions, which makes your items costly.

While you were on a trip to Taj Mahal or Red Fort, you will come across many salesmen and touts selling many things. Dont let them put your mood off, simply ignore them.

Handicraft emporia from other states are also present from where you can pick crafts of your liking. Credit cards are widely accepted by almost every shop.
Government Emporia
Gangotri, U.P. Govt. Handicrafts Emporium, Taj Mahal Complex
U.P. Handloom, Sanjay Place, Hari Parbat, M.G. Road
Kairali - arts and crafts of Kerala, Taj Mahal Complex
Rajasthali - Rajasthan Handicrafts. Taj Mahal Complex
Black Patridge - Haryana Handicraft Emporium. Taj Mahal Complex
Kashmir Government Arts Emporium - Taj Mahal Complex
UPICA, Sanjay Place, Hari Parbat, M.G. Road
Gandhi Ashram Khadi Bhavan, Raja-ki-Mandi
U.P. Handicraft Palace, Fatehabad Road


The city has a number of Souvenir Shops approved by U.P. Tourism details of which can be had from the local Tourist Office:
M/s Ram Babu & Sons, Near Hotel Mugal Sheretan, Fatehabad Road, Agra.
Tel: 2331046/2330178.
M/s U.P. Handicrafts Industries,15/252/1 Fatehabad Road, Agra.
Tel: 2330047/2330192 M/s Handicraft In Emporium, 3, Garg Niketan, Fatehabad Road, Agra.
Tel: 2330065/2330448.
M/s Kanu Carpet Factory, 18/160/I-A, Purani Mandi, Tajganj, Agra
Tel: 2331307
M/s Virgo International, 18/163 B/5, Opposite Hanuman Temple - Taj crossing Taj View, Agra.
Tel: 2330019/2331059
M/s Handicraft Gailari, 18-A/54, Jasoria Enclave, Agra.
Tel: 2330188
M/s Sanjai Exports, Near Mayur Tourist Complex, Fatehabad Road, Agra.
Tel: 2331504
M/s Jem Art Agra shopping centre, 18-A/8-C/2, Fatehabad Road, Agra.
Tel: 2330304
M/s U. P. Handicraft Development, Handicraft Nagar, Agra.
Tel: 2333167
M/s U. P. Handicraft Emporium, Sadan Bazar, Agra.
Tel: 2225921
M/s Mughal Marbles, Hotel Mughal Sheretan, Agra.
Tel: 2331448
M/s Oswal Emporium, 30 Munro Road, Shahjadi Mandi, Agra.
Tel: 2225710/2225712
M/s Subhash Emporium, 18/1, Gualior Road, Agra
Tel: 2225829 /2225737
M/s Marble Emporium, Show Room 26, Mall Road, Agra.
Tel: 2226006
M/s Chandra Craft Palace, 159, Garden Road, Balu Ganj, Agra.
Tel: 2267967
M/s Jewel Palace, No 102 103 Sector 3 Vibhav Nagar
Tel: 2332771
M/s Kohinoor Jewellers, 41, M. G. Road, Agra.
Tel: 2462938
M/s Harish Carpet, 18/16 A/1/A, Vibhava Nagar Road, Agra
Tel: 2330398

Happy Agra Shopping...............
Want more info about Agra Rugs ? See here..