Itmad-ud-Daula, Agra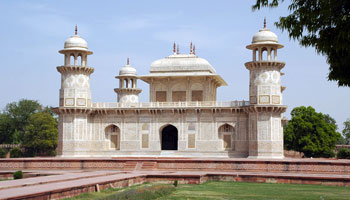 To the north of the fort and across the river yamuna are several fine examples of mughal architecture in Mughal city Agra. The itmad -ud -daula was build by the empress Noor Jehan as a memorial to her father Mirza Ghiyas Beg, is beautifully ornamented with pietra dura inlay and lattice work marble screens.
The city of Agra has an amazing has captured the history of the architectural heritage in the various monuments. Before the Taj Mahal came its ancestor the tomb of the Itmad-ud-Daula. The queen of Jehangir and the daughter of Itmad-ud-daula Nurjahan built the tomb. It was in the year 1628 that the pioneer of the white marble tomb was constructed. It also houses the cenotaph of Nurjahan's mother Asmat Begum.
It is noteworthy that the real name of Nurjahan's father was Mirza Ghiyas, a Persian. Both of the gorgeous Mughal queens namely, Nurjahan and Mumtaz Mahal belonged to the Persian Family. Mumtaz mahal happened to be the daughter of the Nurjahan's brother Asaf Khan. Itmad-us-daula i.e. the pillar of state was a tile bestowed on him by emperor Jehangir. The tomb is at times refereed to as the baby taj.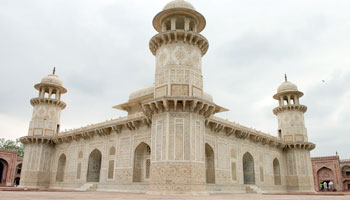 The mausoleum rests in a walled garden with a view of the river Yamuna. In fact it is approximately one and a half kilometers upstream of the Taj Mahal. The structure is renowned for its pietra dura decoration i.e. the inlay works and the carvings.The cypresses and the geometrical designs are worth watching. The depiction of the wine flask with the snakes as handles is a recurrent theme on the walls of the chamber. The adjacent chamber has the tombs of the other members of the family.
Itnad-ud-Daula Design The decoration of the main chamber has been done with the extensive use of the semi-precious stones on the mosaics. The ornamentation that displays the indian version of the pietra dura is believed to have been different from the symbolic decoration followed in Europe. On your trip to Agra do not miss to visit the tomb the predecessor of the Taj Mahal.
Happy visit to Itmad-ud-Daula...........!
Want to know more about other monuments in Agra and tourist reviews, check :