Agra Rugs & Carpets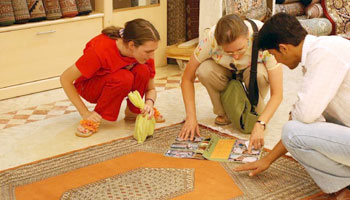 The Agra Rugs are an essential part of Agra art and culture. Carpet-weaving is undoubtedly one of the most distinguished manifestations of Agra culture and art, and dates back to ancient Mughal Period. You can shop for rugs and carpets items at reasonable prices with an incredible range of patterns and motifs, while shopping in Agra. The rug and carpet weavers of Agra offer a wide choice of rugs, prayer mats, wall hangings and carpets, in various shapes and sizes, in the markets of Agra India.
The weaving of pile rugs is a difficult and tedious process which, depending on the quality and size of the rug, may take anywhere from a few months to several years to complete. You're sure to be amazed by the choice of rugs and carpets on offer while shopping for rugs in Agra.The main markets for shopping for rugs and carpets in Agra are near the Taj Mahal complex. These areas include Sadar Bazaar, Kinari Bazaar and Munro Road. The U.P State Emporium called Gangotri at the Taj Mahal Complex, offers a range of rugs and carpets.
The Shilpagram crafts village is another venue where rugs and carpets are on sale, directly by the craftsmen themselves. While buying rugs, remember to look for the "Rugmark" a certification that ensures the rug has been woven using fair trade practices, including no use of child labor. You're sure to find many rugs and carpets that you'll want to take back with you, after shopping for Agra rugs.
Do you have any business query for Agra Rugs?
Return from Agra Rugs and Carpets Page to Taj Mahal IndiaTravel Homepage.