Visa / Passport Requirements for Traveling to India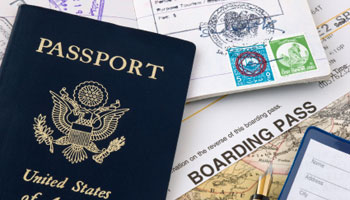 Planning to visit India? Are your visa and passport requirements for India complete?
All foreign nationals, including children, require a visa to enter India. Please do not finalize your travel arrangements to India before ascertaining the visa requirements.
What are the general requirements for visas for India?
Original passport valid for at least six months.
Correct visa fee.
Two passport-size photographs (five photographs in case of Pakistani nationals).
Supporting documents, where necessary.
Duly completed application form (Pakistani and Bangladeshi nationals need toapply on special application forms).
You need to carry your valid passport while traveling to India. The passport should be kept up to date by renewing it before the expiry date. It is an important travel document, which will be required while you are in India.
What are the types of Visas in India? Tourist Visa: Usually a multi-entry visa is granted for the purpose of tourism.
Transit Visa: Transit visas are granted by Indian Missions abroad for a maximum period of 15 days.
Business Visa: A foreigner can obtain one from an Indian Embassy or Consulate abroad .
Student Visa: A student visa can be obtained from an Indian Embassy or Consulate abroad on the production of proof of admission and means of sustenance while in India. The visa is valid for one year but can be extended in India for the duration of the course.
Conference Visa: Delegates coming to attend international conferences and/or exhibitions in India can be granted Conference Visas to cover the conference as well as for tourism in India Delegates are advised to apply to the Indian Embassies well in advance.
Religious missionary visas: Religious missionaries can obtain visas for single entry and duration as permitted by the Government of India. Writers who are known to have offended religious sentiments have been refused visa in recent years. Foreign religious preachers known, or suspected, to be able to arouse religious passions that can disturb peaceful co-existence of all religions, are unlikely to be given visa.
Journalist Visa: Professional journalists and photographers are granted visa for threemonths' stay in India.
Employment Visa: Employment visas are initially issued for one year stay.This can be extended by the Foreigners' Regional Registration Office in India, if the job contract continues. Spouses and children will get coterminous visas.
All travellers to India must possess a valid passport. It is advisable to carry your passport on your person all the while in India for possible identification requirements. Citizens of Nepal and Bhutan can travel without passport but they have to carry some special permits.
All foreign tourists to India must possess a valid visas. Visas are not issued on arrival. The cost of Visa is US$ 30 for up to six months. US$ 50 for up to one year and US$ 100 for more than one year. Contact the Indian embassy or consulate in your country for issuing of visas. A tourist visa is valid for three to six months.

So, get ready to visit India, the land of Monuments.
Return from Visa / Passport Requirements for India to Taj Mahal IndiaTravel Homepage.