The Taj Mahal Museum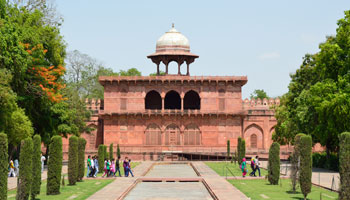 The Taj Mahal Museum is a museum in Agra, Uttar pradesh which lies within the complex of Taj Mahal-one of the greatest creations dedicated to love. The museum was formed in 1982 and it is to be found in the Jal Mahal, a Mahal inside the Taj Mahal. It is an integral part of Taj Mahal-one of the supreme wonders of the world.
It is a big museum consisting of two floors and has three galleries along with a main hall. The Taj Mahal Museum, as the name suggests, showcases all those things related to the creation of Taj Mahal. There are a total number of one hundred and twenty one antiques displayed in the museum. These things can be largely classified into Mughal manuscripts, Mughal miniature paintings, inscription samples, Royal decrees, drawings and plans of Taj Mahal. Some other items which are also exhibited in the museum are arms, utensils, specimen of decorative pieces, marble pillars, etc.
The main hall contains the most significant items. These are the paintings of Shah Jahan and Mumtaz Mahal, his most preferred wife. These are seen on an ornate wooden frame. Imitation of coins, which were minted in Akbarabad, now Agra, is also on display.
These things of immense antique value are displayed in a well-planned manner. The antiquities are displayed in the spacious museum in such a way that it is easy for the visitors to relate and understand.
Everyday, millions of people come to visit Taj Mahal-one of the Seven Wonders of the World. It is but natural that the museum which displays antiques related to Taj Mahal will also be flooded by visitors. The Taj Mahal Museum remains open from ten in the morning to five in the evening. A nominal amount of entrance fee, five rupees per head is charged. Children up to fifteen years of age are exempted.
Like the Taj Mahal, the museum which stands within it, is also a wonder and an interesting place to be visited by all people on earth.
Want to know more about other monuments in Agra and tourist reviews, check :
Return from Taj Mahal Museum page to Taj Mahal India homepage