Fatehpur Sikri Fort, Agra India, History and Monument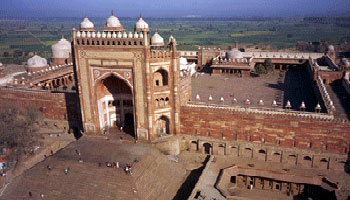 Fatehpur Sikri is a monument i have seen most number of times after Taj mahal. I like it as we can spend 4-5 hours there with many many interesting things to see.We used to visit Fatehpur Sikri every year on our school picnic trips. Every time i found something new and interesting.
Hiring a guide is the best way to see the Fatehpur Sikri because there are many things to see and everything has its history and importance.Some interesting place i like are Jodhabai's Kitchen, treasury ,hiran minar ,bathing place and Tansen seat.
Fatehpur Sikri Agra Facts...
This hill-top city lies 37 kms from Agra in the state of Uttar Pradesh.This town was built by the Mughal Emperor, Akbar. He had planned this city as his capital but shortage of water compelled him to abandon the city. Ornamental pool Built during the second half of the 16th century, Fatehpur Sikri (the City of Victory) was the capital of the Mughal Empire for only some 10 years.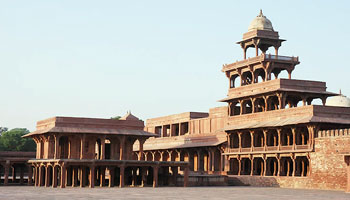 Fatehpur Sikri is one of the finest examples of Mughal architectural splendour at its height. Though the city is in ruins, it is a place to visit if one comes to Agra.But in real terms Fatehpur Sikri is a place where one should spend some time. The sunset over the ruins is sight to cherish.
Tomb of Salim Chisti Fatehpur Sikri is the best example of the culmination of Hindu and Muslim architecture. Fatehpur Sikri Mosque is said to be a copy of the mosque in Mecca and has designs, derived from the Persian & Hindu architecture.
In 1571, Akbar began building a mosque and then a palace complex at Sikri. Gradually the royal court shifted from Agra to the new city. The nobility built their mansions further down the hill and shops lined the road to Agra. To commemorate his conquest of Gujarat, Akbar named his new capital Fatehpur Sikri or the City of Victory.The structures here include palaces and courtyards, as well as official buildings like audience halls, the treasury, the harem, soldier's barracks and kitchens. The attached complex comprises the main mosque, the shrine of Sheikh Salim Chishti and a lofty gateway.
Panch Mahal The prime Attractions in Fatehpur Sikri are Diwan-I-Am , Diwan-khana-I-khaas, Turkish Sultana's House, The Treasury, Daulat khana-I-khas, Palace of Jodha Bai, Hawa Mahal And Nagina Masjid, Birbal's Palace, Sunehra Makan, Panch Mahal, Dargah Of Sheikh Salim Chisti, The Jami Masjid and Buland Darwaza.
Timings & Entry Fees
Foreigners: Rs 485/-
Indians: INR Rs 50/-
Open on all Days
Happy visit to Fatehpur Sikri............!
What do you think about Fatehpur Sikri Fort?
Your Views about Fatehpur Sikri
Patenik, Aug 10 2007 : Fatehpur Sikri While I was visiting Rajasthan and Golden Triangle (Delhi, Agra, and Jaipur) of India in Aug 2007, I had a chance to take side day trip of Fatehpur Sikri as we were driving from Jaipur to Agra. Fatehpur Sikri is rare historical and Muslim spiritual place in India and visiting this picture perfect described town in books. Its historical monuments are almost perfectly preserved. I would advice that you should prefer to stay overnight in Agra and visit Fatehpur Sikri as a day trip. If you are history buff and wants to see unfortunate chapter of Mughal history then Fatehpur Sikri provides a unforgettable escape into the past.

MichaelJM April 2007 : Panch Mahal in Fatehpur Sikri The heavily columned Panch Mahal is an unusual building as it reduces in size after each level until the top floor, which is a single room. There's an interesting central island that is accessed by two narrow bridges where the emperor, alongside his friends in court, spent time fishing. The whole site is incredibly well preserved and when we stood near to the man-made reservoir (now empty of all water) we could look over the hunting land of the emperor. A elaborate hunting tower stands near to the palace walls and it was not hard to understand why

the Emperor chose this site to build his ideal capital city. It's a great view.

Rob Wilson ,UK: Feb 2007 : Fatehpur Sikri An outstanding memorial to Akbar's arrogance!
I would highly recommend a visit to Fatepur Sikri, but please be aware of touts and marble salesmen everywhere.
Still, this cannot detract from the majesty of Akbar's Grand Mosque.The gateway is simple jaw-dropping.
Unfortunately the site is need of some loving care and attention from Archeological Survey of India - many parts are in a tragic state of repair.

Want to know more about other monuments in Agra and tourist reviews, check :

Return from Fatehpur Sikri Fort, Agra page to Taj Mahal India homepage