Goa Tourism Information - Beach Vacations in Goa, India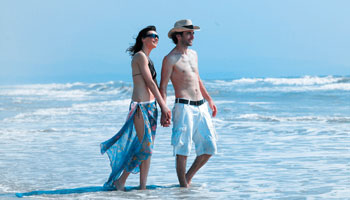 Looking for beach Vacations in India?.. Goa is a best place to choice.
The finest beaches on the subcontinent, a climate which is at its best when the European winter is at its worst and span of accommodation which ranges from the cheapest of guesthouses to the most luxurious of resort hotels, have made this Goa state on the Arabian Sea one of the world's fastest-growing tropical favourite tourist destinations, attracting many holiday-makers every year.
I am giving a overview about Goa beach vacations on this page.
The magnificent beaches and the architectural splendours of its temples, churches and old houses have made Goa a firm favourite with travellers around the world. The tourist season in Goa begins in late September and carries on through early March. The weather in these months is usually dry and pleasantly cool.
Then the weather gets fairly hot around May and by end of June, Goa receives the full blast of the Indian monsoon with sudden downpours and tropical thunderstorms. However it is also during the monsoon that Goa is probably at its most beautiful, with greenery sprouting all around.
How to Reach Goa, India?
Goa travel by Air:
Dabolim is the main entry point for Goa situated at a distance of around 29 km from Panaji on the coast near Vasco da Gama.
Most domestic airlines operate in Goa apart from chartered private airlines operating from UK and Germany. Indian Airlines has direct flights from Delhi and Mumbai daily. Air India also flies to Goa.It is advisable to book your tickets well in advance, especially during the high peak tourist season of October to January when most flights run full. It is also essential to re-confirm your flight timings at least 24 hours before departure.
Goa By Rail:
Goa is connected with Mumbai, Delhi, Pune, Secunderabad, Tirupati via Londa junction on the Mirage-Bangalore sector of south central railway, and to Mumbai, and Mangalore on the Konkan Railway Corporation section. Convenient stations are Margao/Vasco and Karmali.

Goa By Road:
Panaji, the capital of Goa, is connected by road to Bangalore-598 kms, Belgaum-157 km, Bombay-594 km, Gokarn-154 km, Hospet-315 km, Hubli-184 km, Karwar-103 km, Kolhapur-246 km, Malwan-150 km, Mangalore-371 kms, Mysore-696 kms, Pune-458 kms, Ratnagiri-263 kms, Vengurla-73 kms etc.
Favourite Tourist Attractions In Goa
There are a number of Goasightseeing options. Be it the beaches, churches or temples of Goa all attract tourists and travellers to the golden holiday destination.
Goa Sightseeing: Beautiful Beaches of Goa
Beaches of Goa are much ahead of other beaches in India in terms of popularity and the facilities that are available here. The beaches here have been accepted as a matter of life, there are exotic cuisine backing the pleasure of have on sun and sand, and water sports facilities that include from water scooters to water gliding.
List of Most Popular beaches in Goa are:
Palolem Beach
Varca Beach
Dona Paula Beach
Calangute Beach
Miramar Beach
Cavelossim Beach
Majorda Beach
Bogmalo Beach
Arambol Beach

Mabor Beach
Colva Beach

Aguada Beach

Baga Beach

Agonda Beach

Benaulim Beach

Vagator Beach

Anjuna Beach
Best Places to see in Goa: Churches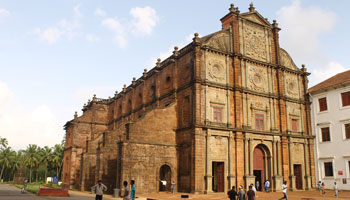 Goa, Jewel of India, is studded with temples and churches, which remain as silent but forceful witnesses to the intense religious history of the diverse people who lived here. Hence a pilgrimage to Goa is a unique experience.
The popular Churches of Goa India are:
Church of Our Lady of Rosary
The Rachol Seminary
Church of St. Francis of Assisi
The Se Cathedral
Basilica of Bom Jesus
Wish you a great best Beach vacations in Goa, India......
Write your Goa Beach Vacations Stories / Reviews here.
Return from Goa Beach Vacations Page to Taj Mahal India Travel Hompage.