Red Fort, Agra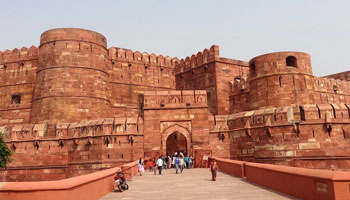 Red Fort Agra is a second most important historical monument in Agra, this is also a must see attraction in Agra city. Taj Mahal view from Agra Fort is awesome, i like very much. Click it.

It will be great for your album. It is said that Emperor Shah Jahan was imprisoned in the Agra Fort was able to view the reflection of the Taj Mahal in a precious diamond built strategically in one of the Fort walls. Hiring a guide is the best way to see the Fort. It is about 2.5 km northwest of the Taj Mahal.

The fort can be more

accurately described as a walled palatial city. Agra Fort should not be confused with the much smaller Red Fort at Delhi. Taj Mahal view from Agra Fort. It is the most important fort in India. The great Mughals Babur, Humayun, Akbar, Jehangir, Shah Jahan and Aurangzeb lived here, and the country was governed from here.

It contained the largest state treasury and mint. It was visited by foreign ambassadors, travellers and the highest dignitaries who participated in the making of history in India.
A little about Agra Fort History....
This was originally a brick fort and the Chauhan Rajputs held it. It was mentioned for the first time in 1080 AD when a Ghaznavide force captured it.Sikandar Lodi (1487-1517) was the first Sultan of Delhi who shifted to Agra and lived in the fort.
He governed the country from here and Agra assumed the importance of the 2nd capital. He died in the fort in 1517 and his son, Ibrahim Lodi, held it for nine years until he was defeated and killed at Panipat in 1526. Several palaces, wells and a mosque were built by him in the fort during his period.Realizing the importance of its central situation, Akbar decided to make it his capital and arrived in Agra in 1558.
Akbar had it rebuilt with red sandstone.It was only during the reign of Akbar's grandson, Shah Jahan, that the site finally took on its current state. At the end of his life, Shah Jahan was imprisoned by his son, Aurangzeb, in the fort. It is rumored that Shah Jahan died in Muasamman Burj, a tower with a marble balcony with an excellent view of the Taj Mahal.
Red Fort Architecture ...
if anybody wants to know. This powerful fortress of red sandstone encompasses, within its 2.5-km-long enclosure walls, the imperial city of the Mughal rulers. The fort originally had four gates, two of them were walled up later. Other two gates are delhi gate and Amar singh gate.
Agra Fort Delhi gate consisting of massive octagonal towers lies on the west and leads to Jama Masjid at Agra. Amarsingh gate faces south and is flanked by round towers and a crooked entrance with dangerous trap points.
It comprises many fairy-tale palaces, such as the Jahangir Palace and the Khas Mahal, built by Shah Jahan; audience halls, such as the Diwan-i-Khas; and two very beautiful mosques. The main attractions in Agra fort are Jehangiri Mahal, Khas Mahal, Musamman Burj, Diwani-i-Khas, Sheesh Mahal, Macchhi Bhawan, Hammam-i-Shahi, Diwan-i-Am, Nagina Masjid and Moti Masjid.
Timings & Entry Fees
Foreigners: Rs 520/-
Indians: INR Rs 20/-
Open on all Days
Happy visit to Agra Fort............!
What do you think about Agra Fort?
Your Views about Agra Fort
Hathras wallah, Menlo Park Ca, 13 April 2007 : Best Fort in India This is probably the finest fort in India and it is reachable from Delhi by car or bus train and it is worth your time and and money it has at a time held a garrison of Jehangir and part of its walls and moat are truly awesome.
Carlisle, England, 5 July 2007 : A Must We visited here in July 2007 as part of a day trip to Agra. It is an amazing place, full of charm and wonder and from here you can see the Taj Mahal in the distance. We had a local tour guide who could not wait to tell us all the history & stories he knew of here and the other places we visited on our trip to Agra.

Tucson, AZ Dec 4, 2006 : My Tour of the Fort I arrived and was greeted by hordes of Govt. Tour guides. A guide is advisable but make sure it is a legit guide - It should cost you no more than Rs275. I would not have had the full experience without a guide and as the Fort "ties" in to Taj Mahal is should be seen before visiting the Taj Mahal.

Want to know more about other monuments in Agra and tourist reviews, check :
Return from Red Fort Agra page to Taj Mahal India Travel homepage