Hotel Sheela, Agra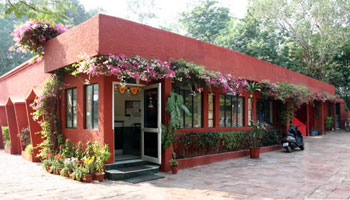 Ideally situated in a secure environment and just 100 metres from the Eastern Gate of the Taj Mahal in the Taj Trapezium Zone: a 100% pollution free areaCentrally situated in the amazing city of Agra is the Agra Ashok hotel. The intricate craftsmanship of Agra is revealed in the marvellous marble inlay work on this hotel in Agra. Hotel Sheela offers a wide range of rooms suitable for all types of travelling parties to choose from: singles, doubles and triples are available to suit your requirements and budget.
Hotel Sheela has been highly recommended by all internationally renowned travel guide books since its opening. So, why not come and visit Agra, home of the Taj Mahal: the most captivating monument of love ever built. You will not regret it.
Hotel Sheela offer these additional facilities:
All types of travel assistance & tourist information

Commission-free transport bookings (car, bus and train)

Honest, friendly and hassle-free advice


Internet facilities

Advance booking of rooms via internet or telephone

STD, ISD, PCO facilities

Free incoming phone calls

Free book exchange


Free cloak room / luggage storage

Fresh food in Green View Restaurant

Colourful garden & quiet relaxing surroundings

Fresh air in the Taj Trapezium Zone (100% pollution free)

Cycle friendly with secure parking


Hot water available 24 hours

Laundry service

Generator facilities in case of power cuts

100m from Taj Mahal East Gate

Close to railway and bus station, post office and banks

ATM just around the corner
Frommer's Review
As far as budget lodging goes in the immediate vicinity of the Taj Mahal, you won't do better than this peaceful complex of neat, cream-walled buildings with a pleasant garden courtyard filled with bougainvillea, parrots, peacocks, and squirrels. Aimed at the budget traveler, accommodations are very spartan, with patterned vinyl flooring and wallpaper designed like faux miniature brickwork. Beds are firm but have thin mattresses. The en-suite tiled bathrooms are clean and have towels; hot water is available in winter. Guest rooms have fans and mosquito screens over the windows, and some rooms have air coolers for summer. The manager, Manish Bansal, can help with sightseeing endeavors, guides, and organizing a taxi. During the winter season, you are advised to reserve in advance or risk ending up in one of the nearby hovels. Alternatively, you can ask about Sheela Inn, the hotel's new property, which is priced a little higher but has better in-room facilities (like TV and telephone) and is about half a kilometer away from the Taj complex.
What do you think about Hotel Sheela?
Your Views about Hotel Sheela Agra
Anacri Louisiana June 17 2008:"Great location"
I made the reservation by phone when I was already in India. This hotel has a great location for the Taj Mahal. Our only problem was we got here at about 3am on the overnight train from Delhi and we had a really hard time getting them to open the gate and let us in. We only slept for a couple of hours because we wanted to see the sunrise inside the Taj complex. We had a hard time waking someone up to let us out. Other than that, the room was average for the low price. It was clean, but very cold.
Koliver London May 19 2008:"Hotel Sheela: best location in Agra"
Hotel Sheela is located near the East Gate only 100m from the Taj Mahal.
The location is really handy - we caught a motorised tuk tuk from Cantonment Station to the East Gate and then we walked about 5 minutes to the hotel. We payed 50 rupees for the ride.
The hotels proximity to the Taj allows you to get there really early. If you want to be one of the first through the gates of the Taj, get there 30 mintues prior to opening. It is cooler at sunrise as well.

The rooms vary according to whether or not you choose to have a water cooler. We initially chose a small room with a fan but the heat got the better of us so we decided to upgrade to a room with a water cooler. For a few extra dollars its worth it in the hot India weather. The rooms are spacious (the ones with a fan are much smaller), there are western toilets and a shower with reasonable water pressure. There isn't much hot water but the hot weather makes this quite refreshing

The staff are quite friendly, some speak English well others not so well but you get by.

There is a restaurant attached serving reliable and cheap food. The hotel is set around a nice garden and courtyard. It is very peaceful and quiet. The atmosphere is really chilled out and allows you to relax away from the hustle and bustle of Agra's markets, tuk tuk drivers and people trying to sell you stuff.

Overall a great place to stay in Agra.
Traveller Dublin Ireland May 13 2008:"Basic but comfortable stay"
Located in the green belt around the Taj Mahal, so if that's what you are going for you are right there literally!!!!

Hotel was pretty basic. Room had two beds and nothing else. Air conditioning was nice and quiet, including a ceiling fan. No toilet paper supplied(extra charge), and the toilet was less than clean.

Breakfast area is located in a nice garden, and there was a fairly big breakfast al la carte menu available.

Auto rickshaw to Agra city takes about 10-15 minutes.
Ultrabert Australia Mar 13 2008: "A green oasis just next to the Taj"
Which I guess is the title that themselves can say about it.
In this hotel everything is about the location. First, because is just 200 metres from the Taj, which is what you and everybody are going to Agra for, and second, because for this reason is in the 'green belt' area around it, and petrol traffic is not allowed in the surroundings.
And this, in India, is of course a bless!

The hotel itself has a nice and pleasant garden, and a big and friendly dog to scare the monkeys. The rooms were rather poor and in our case, with no hot water. But I guess this helps also in getting up early to see the first rays of light on the big white building!

You can find hundreds of similar priced hotels in the Taj Ganj, all quite close to the Taj, but this one has the special of the garden and the dog.

Also... I must say that I have read many comments everywhere about Agra being horrible... well, I am not agree. I quite enjoyed the central streets and some walks around the city, so I recommend you to give it a bit more of time that the strictly necessary to just see the Taj.
Nenya North Carolina March 3 2008:"Nice, Clean and Great Location"
I was a little worried coming to this hotel because of the negative reviews here, but we found it to be a great hotel. We had towels, hot water and a nice, clean room. There weren't any bugs in our room. We stayed in similarly priced hotels for our entire trip through India and this was easily one of the better ones. The restaurant in the courtyard was good and the hotel's garden was lovely.

As other people have said, it's location so close to the Taj Mahal is wonderful. It was especially good as we arrived Thursday afternoon and were planning to go the Taj Mahal on Friday morning only to find out that it was closed all day Friday. So, we were able to quickly get in line and see the Taj on Thursday.
RS Brussels Nov 10, 2007 : "Good place for (early morning) visits to the Taj"
Stayed there for one night in early September 2007. Room was pretty clean and good for one night, bed a bit too short for me 1,83m but ok. The manager is a nice guy and can arrange for a beer even if the guys in the restaurants say no. Food is ok and clean but nothing special. Walking distance to Taj is unbeatable to make it at 6am in the morning... I felt pretty save in this place and did enjoy sitting in the garden chatting with other travellers. I found this place ok for one night as a single traveller, not sure I would go there with family and children.
Silverskin Canada Aug 9, 2007 : "Great Location"
Definitely above average for India... relatively clean room and the best location you can get in Agra - literally 2 minutes from the Taj Mahal. Restaurant was great, nice spot to relax at night in the back garden.

If you have a car you will not be able to get to this hostel though, you must take a rickshaw...
Edinburg UK Jul 26, 2007 : "Great for backpackers - Best Location"
Great place for backpackers and only a 5 minute walk from the Taj Mahal.

This is a basic place but very good for backpackers - it is clean and good value for money. We paid 900 rupees a night for a room with air con. Room was clean and secure.

There is a good resaurant onsite and the staff were very pleasant and helpful.
RJ Oakland CA Jun 12, 2007 : "You get what you pay for"
I look at Hotel Sheela as basically a transactional place. You know what you're getting - an inexpensive room close to the Taj Mahal. It's not the Ritz, and doesn't pretend to be. The staff were very accommodating during our stay and the dogs (there are two now) added to the ambiance in the lovely garden.

We paid substantially more for an AC room as we were there at the height of summer (not recommended in Agra!) - although the hotel has a backup power system in case of blackout, it does not support the AC units, so when the power goes out (which was about 50% of our entire stay), you are left to sweat. Rooms were basic econoboxes - cement walls, one neon light, etc. - but you're not staying here for the charm. One tip - adjacent rooms share an open window in the bathroom, so keep your bathroom door closed or you will hear *everything* your neighbors say / do.

One comment on the food - guidebooks, etc. rate the garden restaurant as being very good. I won't dispute it's in a garden, but it was some of the worst food I've eaten in India - bland at best, inedible frequently. It was also expensive for "budget" fare. We found the restaurant directly across the street, the Family Restaurant, offered much better food - the owners even reopened the restaurant one night after closing to serve us! Try their wonderfully savory saag paneer...
I agree with previous reviewers that paying a little more to get out of Taj Ganj might be worth considering - although Hotel Sheela is close to the East Gate, that makes it further from anything else in Agra, meaning autos are a constant fact of life. The Taj Ganj neighborhood is not particularly tourist-friendly or safe and its byzantine street layout guarantees you will get lost quickly. The hotel is also actually quite far (6-7 km?) from the train / bus stations.