Hotel Pawan, Agra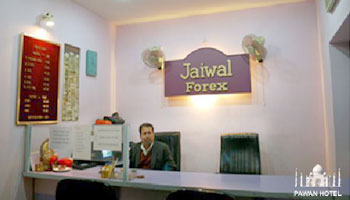 A fine hotel property in the city of Taj, Pawan Hotel is one of the leading budget hotels in Agra, India. A favorite haunt for budget travelers in Agra, Pawan Hotel offers its guests standard accommodation, dining and recreation facilities at an affordable price. Pawan Hotel is located on the famous Taj Road in Agra and provides easy access to the City Center (1 km), Railway Station (2km) and the Bus Stand (2 km). Its proximity to the beautiful Taj Mahal (2km), Agra Fort (5km), Tomb of Itmad-ud-Daullah (7km) and other tourist attractions of Agra makes it a favorite choice for tourists.
Pawan Hotel Agra is a good deal for those looking for a budget accommodation on the Taj Mahal Tour. Hotel Pawan Agra boasts 25 elegantly designed and well furnished guestrooms. For your comforts, all guestrooms are provided with most of the modern amenities like Satellite TV, Telephone, Hairdryer, attached Bathrooms with Shower and 24-hr H/C running water. For an enjoyable dining, the Pawan Hotel Agra has a multi- cuisine restaurant as well as a specialty vegetarian restaurant. The restaurants at Pawan Hotel serve a fine selection of delectable Indian, Continental and Chinese dishes.
Pawan Hotel Agra offers standard business facilities like meeting room with PC, Fax and Internet connectivity. For recreation, Pawan Hotel arranges sightseeing tours to various tourist attractions in Agra, including the Taj Mahal, Agra Fort and Itmad-ud-Daullah.Other facilities and services offered to guests at Hotel Pawan Agra include 24-hour Front Desk, Travel Desk, Doctor on Call, Laundry Service, Currency Exchange, Safe Deposit Lockers and Car Rentals to name a few.
What do you think about Hotel Pawan Agra?
Your Views about Hotel Pawan Agra
Phil UK Apr 22 2006 : "Shocking"
Terrible rooms that looked like they hadnt been used for years! v dusty and minginf bathrooms, no one else at the hotel and it was v big! Wonder why! Anyway wouldnt recommend.

Return to your Agra Travel Stories/Reviews Page