Hotel Amar Yatri Nivas, Agra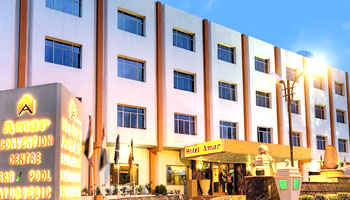 Address: Fatehabad Road, Agra-282001 (U.P.), India.
Access: 8 kms. from Agra Airport; 4 kms. from Agra Cantt Railway Station;2 kms. from Idgah Agra Bus Stand.
Facilities: Standard rooms with room facilities such as attached baths, TV, Radio, C.T.V., Direct Dialling with STD & ISD, hot and cold running water etc.
Services: Travel assistance, butler service, meeting facilities, laundry service, Foreign exchange and Safe deposit locker etc. An elegant and modern building, Hotel Amar Agra offers all the comforts a modern day discerning traveler expects in his home away from home. The well-equipped conference facilities in the hotel make a business traveler's life easier. The Hotel Amar Agra boasts luxurious rooms, which offer vibrant and luxurious ambience. Each room is exquisite: there are wall to wall carpets, attached baths and round the clock cold and hot water, direct dialing facility, channel music and color Television with satellite channels and other exceptional amenities.

The Noorjehan restaurant at the Hotel Amar Agra offers the guests a range of culinary possibilities including Mughali, Indian, Chinese and Continental cuisines. The Madira Bar is the place where you can have relaxation. The Hotel Amar Agra boasts a modern swimming pool where you can relax. The lawns of the hotel are perfect place to feel free. If you are a health freak, a well-equipped Health Club is there to meet your requirements. The guests can also enjoy a steam bath and the opulence of a Jacuzzi.
What do you think about Hotel Amar Agra?

Your Views about Hotel Amar Agra
Sharich Melbourne July 5 2008:"Reasonable Hotel" Friendly greeting from a mustachio'd door man.
We were given a cold drink whilst we checked in then shown to our rooms.
We were a group of three couples and all our rooms were quite different. One couple had a two room suite which looked like something out of Arabian nights, all gauze curtains and fake flowers.(not to my taste but they found it amusing). Our room had a Turkish feel to it and was comfortable the bathroom was small and there was no hot water at 7pm . Bedding was two singles made seperatley then pushed together with one King sized bed spread! The third couple were not happy with their room, they felt is was very shaby.
It had a nice pool area and the dining room overlooked this. The breakfast was good and so was the service.
It is not a delux hotel but for an overnight stay when visiting the Taj Mahal it is good value, just ask to see the room first and if you don't like it ask for another one.

Kerris Singapore Jun 17 2008:"Comfortable but Exorbitant Internet Charges" My son (22) and I (56) were walk-ins to Hotel Amar on the recommendation of the guy at the Indian Railways tourist office. We stayed in a first floor room just off the lobby. Upstairs rooms were unavailable due to construction. Obviously recently renovated. Hot water, clean bathroom, toilet paper, decent towels, functioning air conditioning and comfortable beds. We used the swimming pool and the water slide, both of which were well kept. The health center lacked newer equipment.

Our big complaint was the ludicrous 150 rupee/hr charge to use the computer in the lobby. They did offer free usage to check train times but well priced internet (30 rupee/hr) can be found just down the road.

We paid 3600 rupee/night (~120 US at the time) which included an average buffet breakfast.

Carolyn London April 28 2008:"Don't eat the chicken!" I didn't stay at this hotel, but we used the pool because our hotel's pool was being renovated. We ate lunch there the first day and my fiancee had the chicken tikka. It was obviously not cooked properly and made him very ill for the next few days. Be careful!
Ana Spain Mar 9 2008:"Nice place, helpful staff" This hotel was superior to average hotel in India. Helpful staff, good breakfast, big nice room and quite good swimming pool.
JKD Scotts valley CA March 5 2008:"your experience may differ depending on which room you get ....." This hotel was booked for us as part of a package tour of Rajasthan and Agra. Our first room was old and dumpy, with stained walls. The bathroom construction and fixtures were very cheap.

Since it was New Year's eve, the restaurant and pool were gearing up for the party. Our room was right across from the restaurant and as they tested the sound system, the walls literally vibrated. Since one of us was suffering from Delhi belly (and with a 5am departure in the morning), we were extremely unhappy. However, after asking the front desk if another room was available, the bellhop arrived with keys and took our luggage to our new room.

The second room on the 5th floor was much nicer and well lit, with tile and marble floors. Although the room size was much smaller, it was more recently renovated and the furniture newer as well. But, it was starting to look dilapidated (although definitely not as bad as the first room).

The bathroom was also smaller than the first room, but with a bathtub and newer fixtures. We could finally take a decent shower with enough hot water directed at us, instead of the walls and ceiling. The towels were thick but dingy.

We could not turn off the aircon and finally slept in a cold room. Other amenities at the hotel include WiFi, gym and pool; we noticed a Pizza Hut down the street.

For our early departure, the hotel prepared a breakfast box for us with boiled eggs, juice box, banana, mealy apple, potato chips. It was much more ample than some of the buffets we had sampled to date on our tour.
Rocky Town Dec 21, 2007 : "Bargain at reception!"
Situated next to a road (which is surpisingly quiet during the night) and with all necessary infrastructure within easy reach, Hotel Amar is good choice to stay. Clean big rooms sporting new furniture and good bathrooms. Windows are not quite it and let much of the outside noise in. Excellent services. Exceptionally friendly staff at reception.
Two minor issues with Amar. First being the restaurant: while breakfast is great and quite generous, we weren't delighted about dinner. But maybe that was because of a big party going on at the same time. Second issue is the price: Upon arrival we were shown menues for the rooms showing ridiculous prices. When we declined and were about to leave, the management all of a sudden could make very interesting cut-offs(50% off). Be tough, but keep in mind that the hotel is a good choice.
London Nov 29, 2007 : "Value for money"
It is clean, simple and cheap. We had no complaints apart from the hotel sponsored rickshaw drivers and the fact that they charged to use the PC, which wasn't even connected to the net.
Fego Dublin Oct 22, 2007 : "Good Hotel"
Stayed here for two nights in early October. We were very happy with the hotel. The room was large and clean. The restaurant served good indian food and appeared to be popular among the locals. The hotel is centrally located and is a good base to explore both Agra and the Taj Mahal.
The bar is a bit dark and dingy, but it is fine for a beer at the end of a days sight seeing, alternatively you can have a drink in the lobby. The facilities were good also, swimming pool, safe, internet etc.

Skea Australia Jun 14, 2007 : "Average value"
I booked a night at this hotel through a travel agent in Delhi. It has a beautiful lobby and the service was great. However I wasn't totally happy with the rooms - the first one faced the main road where there was a lot of construction underway, the other one was very dimly lit and faced into a deserted lobby. Facilities were fine, I guess the atmosphere was just a bit quiet for me. There is a nice pool and I had a massage which was ok. I thought this hotel was average value for money (I paid USD40 a night).

Return to your Agra Travel Stories/Reviews Page