Hotel Utkarsh Villa, Agra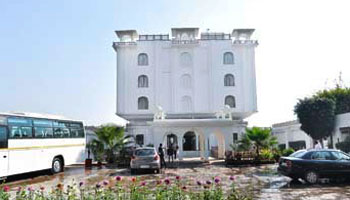 Address: Fatehabad Road, Agra-282001 (U.P.), India.
Access: 02 Kms railways , 04 kms airport.
Facilities: Deluxe rooms with room facilities such as attached baths, TV, Radio hot and cold running water etc. Services: Doctor on call, Laundry, Money Changer, Safe Deposit. Utkarsh Vilas, Agra is situated in the heart of the city. It is perfect place to stay. The hotel offers state of art facilities at an affordable price. The hotel is famous for its warm and hospitable services. Utkarsh Vilas, Agra is undoubtedly one of the best budget hotels in town.
Utkarsh Vilas, Agra boasts to home many restaurants and cafes. These restaurants are famous for serving mouthwatering delicacies. The chefs try to prepare a new menu everyday. The staff of the restaurants is efficient and they make sure that you enjoy your meal.

Utkarsh Vilas, Agra offers numerous facilities to its guests. The facilities include fitness facilities, pool, spa services, car rental, administrative services, internet facility, photocopy and meeting facilities. The hotel and its staff leave no stone unturned to make you feel comfortable.
What do you think about Utkarsh Villa Agra?
Your Views about Utkarsh Villa Agra
Ravi Noida India Oct 31, 2007 : "U should stay in this hotel once"
This was realy nice staying in this hotel the staff the owner n all the services was fantastic. No doubt that its a real nice hotel.......
i would prefer that you should once visit this hotel...
Cat England July 4, 2007 : "Wonderful stay"
We were a group of 16 Guiders/Scouters aged 18 to 77 years, and the Utkarsh Vilas Hotel was perfect, we were greeted with garlands, cold drinks and towels to refresh us following a 25 hour train journey, our rooms and baggage were all sorted within 15/20 minutes of arrival, the rooms were clean and had every thing we required. The restaurant and food were superb, also the swimming pool was a welcome sight and well used. But what impressed us was that when one lady from the group was taken ill at the Taj Mahal, I and my friend took her back to the hotel, the staff could not do enough for us, they provided us all with cold drinks and the lady who was unwell was given fresh cold drinks, cold towels etc., any thing she needed she got. The staff were Excellent.
Jennifer Wales Apr 15, 2007 : ""Please dont stay at this Hotel"
We spent 2 nights at this hotel, and it was the worst one I had ever stayed in during our 25 day tour in India. We arrived at the Hotel very tired and thirsty. As I am a tea drinker, we asked for a pot of tea and some cold drinks. I had to ask several times before they arrived. We were shown up to our rooms, on the way I noticed that several areas of the hotel was very dusty, and had electrical cables lying on the floor.