Hotel Ganga Ratan, Agra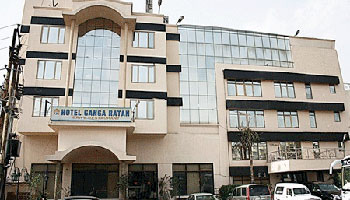 Address: Fatehabad Road, Agra-282001 (U.P.), India.Access: Centrally located.
Facilities: Standard rooms with room facilities such as attached baths, TV, Radio hot and cold running water etc.
Services: Travel assistance, butler service, meeting facilities, Money exchange laundry service etc. Hotel Ganga Ratan, a budget hotel in Agra through its service reminds of the Mughal era. Situated at Fatehabad Road in Agra, the hotel is close to Taj Mahal. It takes you away into a clean environment with lush green surroundings. Equipped with all modern facilities the rooms are elegantly designed to provide a home away from home for the tourists. With a seating capacity of around 500 people, the hotel Ganga Ratan is one of the largest conference halls in Agra.
Hotel Ganga Ratan offers 41 luxurious rooms that are tastefully decorated. The rooms at the hotel Ganga Ratan Agra are spacious and well equipped with modern facilities. The facilities and services at the hotel include channelled music, color TV, laundry, round the clock room service, safe deposit, money exchange, doctor on call and parking facility.
The rooms at the hotel Ganga Ratan Agra have been divided into Superior rooms, Exotic suite and Exotic Premium suite. The hotel Ganga Ratan Agra offers fine hospitality and impeccable service to its guests. You can enjoy Indian Chinese and Continental cuisine at the hotel. Karan is the multi cuisine restaurant at the hotel Ganga Ratan Agra that serves Indian, Chinese, Mughlai and Continental cuisine.

What do you think about Hotel Ganga Ratan Agra?

Your Views about Ganga Ratan Agra
Ajay India Aug 25, 2007 : "bad experience"
I stayed in this hotel just a couple of days back. Their room service was painfully slow. I ordered a chicken sandwich and after apporimately 30 mins I was informed that the hotel didnt have the required ingredients.I will recommend these guys to do a crash course in hospitality and start respecting their guests.

Geneve Feb 6, 2007 : "Friendly and kind staff, but some problems"
This is a value-for-money hotel. It's very close to the Taj Mahal, the rooms are large and have modern TVs. Bathrooms are shabby, but clean, and the staff are wonderfully helpful. Price is about USD 23 per night.

The great thing about this hotel is the staff. They are genuinely solicitous and kind. I had trouble with hot water the first night and the staff went out of their way to help. Within minutes they had the hotel plumber and electrician in my room trying to fix the problem. I recommend it to people planning their own trip who are looking for a comfortable, decent and cheap hotel within a few hundred metres of the Taj Mahal.